Take a peek into Reese Witherspoon's kitchen and see how she makes the healthy green smoothie she's been drinking every day for the past nine years! In a video posted to Instagram, Reese explained that she first heard about this smoothie from her Little Fires Everywhere costar Kerry Washington years ago while sitting next to her at an awards show. Reese said she didn't know Kerry that well at the time but asked her, "Your skin is beautiful! What do you do?" Kerry shared this recipe and said it changed her skin and made her hair and nails really strong, and Reese was hooked! If Kerry and Reese love it, we've got to try it!
Here's the recipe, which was inspired by Kimberly Snyder's Glowing Green Smoothie: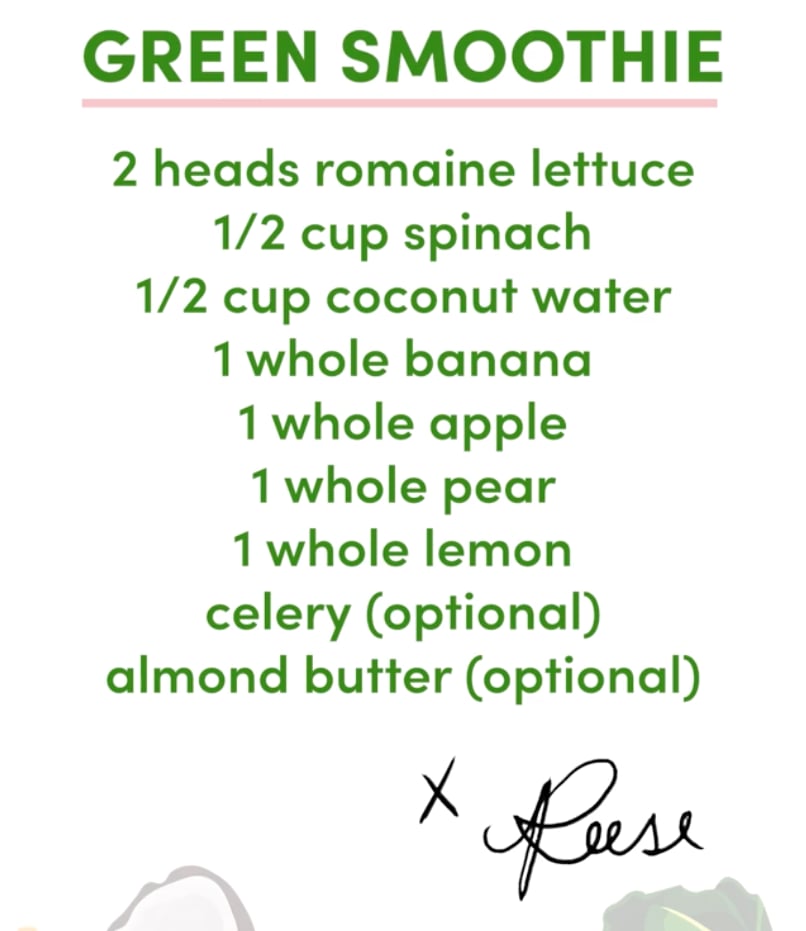 It may seem like a lot of vegetables, but as Reese said, "You gotta get your greens in y'all!" Sometimes she adds a little celery or anything else green she has in the fridge. You can also add other healthy ingredients like protein powder, almond butter, or flaxseed — make it your own! But don't forget the secret ingredient: dancing!
After it's all blended into this bright-green liquid, Reese said, "I know it looks like it tastes gross, but it tastes so good!" Reese doesn't eat breakfast and drinks this smoothie around 10 or 11 a.m. and said she doesn't get hungry at all until lunchtime around 1 p.m. This recipe makes two portions, so Reese puts half in the fridge in a pretty reusable jar for the next day. She said, "Try it! it's my green smoothie recipe. I hope you like it!"